The Two Were Reunited in a Fond Embrace, 1906
link
Freya's Garden, 1906
link
Freya's Garden,
Die Nibelungenhalle
link
Hermann Hendrich (1854-1931) was a German artist.
From 1870 to 1872 he served his apprenticeship as
lithographer; one year shorter than the regular duration
due to his evident talent. He then started a job in a
Hanoverian
lamp factory where he had to draw a catalogue. At that
time, he first attended a
Wagnerian
opera,
Tannhäuser
,
and the wish emerged to be able to draw such musical
impressions. His futher education took place in Norway
as well as in Germany at Berlin Academy of Art
link
Possibly from Richard Wagner's
'Der Ring der Nibelungen'
link
The Rhine Gold, 1906
link
The Mermaid
link
In 1901, the 'Walpurgishalle' in
Thale
, a building
in a pseudo old-Germanic style was inaugurated.
Hendrich did the paintings in the interiour and
created sketches that were used by Bernhard
Sehring to create the architecture
link
The postcards illustrations are from :
Goethe's Faust, Walpurgisnacht
Most images show the wallpaintings
from the 'Walpurgishalle'
link
Windsbraut postcard
'Mammonshöhle' postcard
'Irrlichtertanz' postcard, ca. 1920


The Cloud Walker
link
The Ride of the Valkyries
link
The Rainbow Bridge
Connecting Heaven and Earth
link
Awakening of Brunnhilde, 1906
link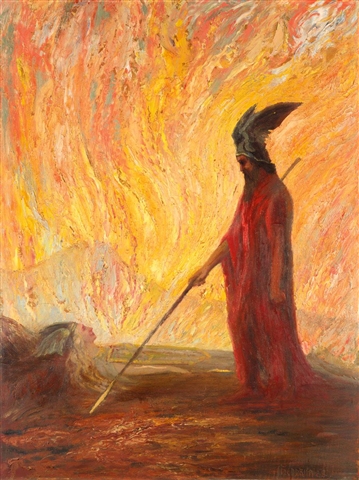 Wotan and the sleeping Brünhilde from
Wagner's 'Die Walküre', Act III
link
Wotans Abschied Wotan's Farewell to Brunnhilde
link
Wotan waits in Valhalla for the End with
his Broken Spear, 1906
link
Fafner in his Cave
from
Richard Wagner's 'Der Ring der Nibelungen'
link
Siegfried and Fafner, 1906 from
Richard Wagner's 'Der Ring der Nibelungen'
link
The Death of Siegfried, 1906
Richard Wagner's 'Der Ring der Nibelungen'
link
The Funeral of Siegfried, 1906 from
Richard Wagner's 'Der Ring der Nibelungen'
link